Why You Shouldn't Read Proust!
Posted on
This year marks one hundred years since the French author Marcel Proust won Le Prix Goncourt for his book À l'ombre des jeunes filles en fleurs, the second part of his famous novel sequence À la recherche du temps perdu. On a more personal note, it's also ten years since I was hard at work on my own engagement with Proust's work – In Search of Vinteuil: Music, Literature and a Self Regained (Sussex Academic Press, 2010).
To celebrate these anniversaries, I'll be posting a series of blog posts on Proust in the coming weeks. I begin with…
Why You Shouldn't Read Proust!
Professor John Schad notes in the 'Series Editor's Preface' to my book on Proust that when it comes to À la recherche du temps perdu I have read 'all of it, every page'. It is true, I have. And it was a deeply rewarding experience. However, in this blog post I want to tell you why you absolutely shouldn't read all of Proust's work, at least not every page, and maybe not any of it!
Consider this a friendly warning, a last signpost telling you to turn back. Forewarned is forearmed!
Length: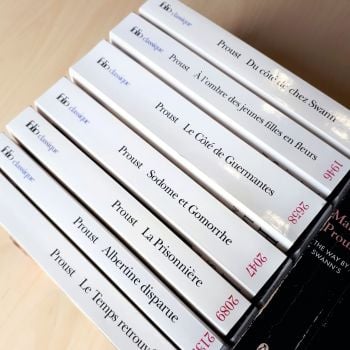 Proust's novel À la recherche du temps perdu is long. Properly long. Longer than Samuel Richardson's Clarissa long, which really is long indeed. It is seven volumes in the original French. This number has been reduced to six in English translations, as La Prisonnière and Albertine disparue are normally bound together in one book. Nevertheless, that is still somewhere in the region of 3,000 pages of text.
It's also a slow read. It 'plays long', to use a golfing term that Albertine and her friends might understand. When I read Proust's novel I found that about 15 pages per hour was par for the course.
Be warned, then, that if you read Proust you will lose a lot of time.
Structure:
Proust's work is very unconventionally structured. Much critical work has been done on this aspect of the text, most notably by Gérard Genette. Suffice it to say here that if you approach this text with the Aristotelian expectation of finding a story with a beginning, middle and end you won't know where to begin or when to stop.
Content:
Proust's novel is set in a period of French history that is relatively unfamiliar to English-speaking audiences, despite being recent. This poses specific problems of comprehension.
However, beyond the problem of the historical context lies the sheer complexity of the work's cultural contexts. The text ranges across the histories of various art forms and simply demands that its reader keep up. Thomas Hardy is referenced – that's easy. So too are Racine, Ruskin, Liszt, Vermeer – again not too bad. But it doesn't stop there. There are references to scores of other artists and their works. To make matters still more confusing, Proust then interposes fictional figures like Vinteuil and Elstir between the real, historical characters.
This all means that the attentive reader is continually spun out from the thread of the text even as they pay close attention to it.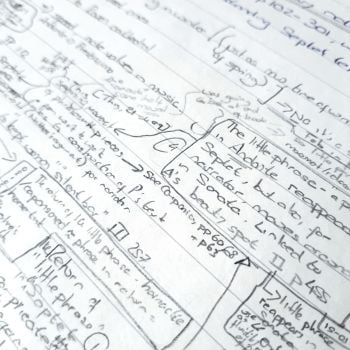 Engagement:
Proust's novel demands a high level of reader engagement. This has consequences. I began reading Proust and then very soon after began writing about Proust, covering page after page with my own notes that became Proustian in their illegibility and in their slow accretion of additional, stuck-on pieces of paper.
This is to say that my slow reading became a slow writing – laborious, tiring and, ultimately …
… hugely enjoyable and rewarding.
In the next blog post in this series I will explain why you absolutely should read Proust, 'all of it, every page', including the newspaper articles and essays, the parodies, the critical introductions, the translations of Ruskin, the correspondence, the poetry, Les Plaisirs et les jours, Jean Santeuil, and, of course, the entirety of À la recherche du temps perdu.
© James Holden 2019